It may be difficult for young Anglican Sabahans to imagine this, but had they been born before the 1980s, they would have experienced a very different form of worship on Sundays and weekdays at their parish churches. Until the arrival of CMS missionaries to the southeast coast in the 1950s, the primary influence in the Anglican Church throughout North Borneo had been the Society for the Propagation of the Gospel (SPG), whose personnel, like Revd Elton in Sandakan, were High Church or Anglo-Catholic in persuasion.
The Golden Jubilee celebrations of All Saints' Jesselton in 1961 provides a snapshot of this period. It involved many Processions, Sung Eucharists and Solemn Evensongs. Clergy were robed in elaborate vestments, and there were altar servers carrying candles, swinging incense and ringing bells. Likewise, Anglicans deep in the interior in the 1960s worshipped in a similar way, even if adapted for kampung conditions. It would be mistaken to see these differences as purely external or aesthetic, for they embodied a particular theological mindset which was dominant in the Diocese then, one which drew from the traditions of the church as much as from Scripture. But what caused the form and content of Christian life in the Diocese of Sabah to shift away from this? To answer this question, we first need to examine what may be called the "evangelical revival" which came upon the Diocese in the 1970s and 1980s.
A Time of Transition
This chapter of the Diocese's story begins in the region around Tawau and Semporna, where Australian CMS missionaries first introduced evangelical ideas in the 1950s. However, their influence was restricted to those areas, for elsewhere the Anglo-Catholic formation provided by SPG missionaries continued solidly. The SPG's work, with its emphasis on the sacraments and traditional worship in church as well as holistic ministry in the world through education and healthcare, has been described by former CMS missionary Revd Gordon Boughton as "a Christ-centred, people-nurturing Anglican gospel ministry" (Golden Jubilee History p. 42). Nevertheless, by the early 1970s, the predominantly Anglo-Catholic spirituality of the Diocese appears to have become somewhat dry and distant from the experiences and needs of many people. In the interior, many of the believers had insufficient teaching and guidance and so were nominal Christians. By God's grace, a fresh gust of wind arrived in the form of a more evangelical faith and witness.
Defining Evangelicalism
However, before we can speak of evangelicalism in Sabahan Anglicanism, we have to address the most basic question: what is evangelicalism? In Evangelicalism in Modern Britain, historian David Bebbington identifies four primary attributes of evangelicalism. We may express these in the form of four core beliefs, all of which became prominent in the evangelical wave which swept over the Diocese of Sabah:
1. Lives are changed through a "born again" experience and lifelong discipleship (Conversionism).
2. The Gospel must be expressed through action, especially evangelism but also social reform (Activism).
3. The Bible is the ultimate authority that has to be obeyed (Biblicism).
4. The Cross of Christ opens the way to redemption (Crucicentrism).
The historian Mark A. Noll summarises the evangelical contribution to the Christian faith as follows: "[W]hat evangelicalism has been great at doing is bringing life back to [what has become] cold religious form." (italics added) It could be said that Sabahan Anglicans before the evangelical revival had certain forms of the Christian religion but did not always possess the life that is meant to be communicated through them.
The Spreading of Evangelicalism
The transfer of Bishop Roland Koh to be the first Bishop of West Malaysia in 1970 left Sabah Diocese without a chief pastor to lead it in the ongoing situation of "mild persecution" (in the retrospective words of Bishop Yong Chen Fah). Given that the new Diocese of West Malaysia received a son of Sabah to lead it, it was perhaps apt that a priest serving with distinction in the Peninsula would be brought across the South China Sea to become the new Bishop of Sabah. This was Luke Chhoa, then Vicar of St Paul's, Penang and Archdeacon of Northern Malaya. Following his appointment, Revd Chhoa spent five months in England to improve his English, and was consecrated as Bishop of Sabah by Archbishop Michael Ramsey in Canterbury on 30 November 1971.
Upon his arrival in Kota Kinabalu in January 1972, Bishop Chhoa set to work. As an evangelical, his passion was preaching the Gospel to unbelievers. However, in order to best spread his evangelistic fervour to the faithful in Sabah, he chose to blend into the existing traditions of the churches he visited, so that his message would be the focus. Through his efforts and those of other leaders, although traditional forms of worship continued in most places, a new evangelistic impetus sprang up. Church members started meeting in groups for Bible study, growing in their faith and leaving their old nominalism behind. Thus, the evangelical revival spread slowly but surely across the Diocese.
A New Evangelical Generation
All these developments happened even as a new batch of parishioners answered the call to full-time ministry. As the Western missionaries were forced to leave, these ordinands and prospective lay workers were sent to train at evangelical colleges such as Moore Theological College in Sydney and Singapore Bible College, and they returned to serve, fully-steeped in evangelicalism. This accelerated the shift away from Anglo-Catholic to Evangelical churchmanship. These priests, parish workers and pastors not only replenished the much-depleted ranks of full-time servants in the Diocese, but also fulfilled Bishop Koh's earlier vision of a vibrant local ministry, with its members raised primarily from Sabah itself. With the change of the state government in 1976, the time of mild persecution which had begun around 1967 ended, and it became possible for foreign missionaries to obtain visas once more. Nevertheless, God had used for good this difficult period in which the Diocese had been deprived of its missionary personnel, raising up a new generation of local full-time labourers to serve in the harvest fields of Sabah.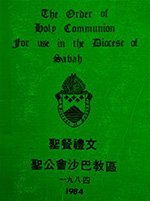 Besides preaching and catechising in an evangelical manner, a number of these clergy also became engaged in an ambitious programme of liturgical revision. A new Holy Communion service was introduced in 1984, followed by a new Collects for Sundays and Seasons and a trial Services for Special Occasions in 1985. Following a period of feedback, a revised Services for Special Occasions for Trial Use Only was published in 1988, together with an Ordination service and draft services for civil marriage blessings and the induction of a minister to a parish. The main principles which guided these revisions were sound Biblical theology and indigenisation (that is, taking into account the liturgy's suitability for local Sabahan culture, while refusing any kind of syncretism). The 1984 Communion service is still used today and has become part of the Diocese's identity.
However, by the end of the 1980s, another movement for revival began to stir in the Diocese of Sabah, one which was Charismatic rather than classically evangelical. The High Church missionaries' teaching had a focus on the Almighty Father's majesty, and the evangelical revival greatly strengthened the church's foundation on the Word of God. These were now to be followed by a movement of the Holy Spirit.