by Bishop Yong Chen Fah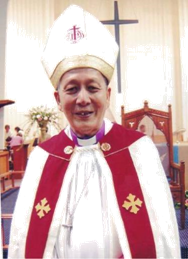 Introduction
I was born into an ordinary Chinese family with no religious belief, but with Chinese senior middle education and Confucius thinking. My uncle in Tawau had me transferred to St Patrick's Secondary School (a mission school). It was there that I experienced a turning point in 1959. After listening to my school Principal, Mr James Power's morning chapel exposition on the Epistle of Romans for three years, I was convicted to follow Jesus and was baptised.
I left Kota Kinabalu in January 1966 to pursue higher education in Sydney, Australia. I did the Leaving Certificate in 1966 before being accepted into Sydney University to do a Bachelor of Arts, majoring in Political Science, Economics, Geography as well as Chinese.
OCF SYDNEY
I was involved with OCF from the day I arrived in Sydney in January 1966 to the end of November 1973. OCF has played an integral part in moulding and equipping me to serve Him later in Sabah.
Firstly, I am grateful to have had the opportunity to attend the OCF Bible Study Group which Andrew Lu and Dr Mitchell Chan attended. I was hungry for God's Word which had a profound impact on my Christian life. As I was being continually transformed by the Word of God, I was made aware of God's love and mercies in my life as a disciple of Christ. This had a bearing on my calling into full time ministry. My involvement in OCF, International House, the Anglican Hall for Men, the Sydney University Evangelical Union (SUEU) Public Meetings and the Arts Faculty Bible Study Group exposed me to people from various countries, culture and Christian denominations. In my second year at University, I was elected to represent the 250 members of the Arts Faculty Group.
Secondly, OCF was a training ground for "Practicing Personal Evangelism". On one occasion, I took a Chinese student to a Billy Graham Crusade at the Sydney Showground and he responded on the last night of the Crusade. He was going to do a teaching degree at University under the Colombo Plan Scholarship.
Thirdly, OCF was also where we were exposed to learning to be "Learners and Leaders". As OCF Sydney President in 1969-1970 and OCF Australia President in 1972, I learnt how to work with other spiritual leaders. Leadership skill in spiritual things became useful in my future ministries when I returned home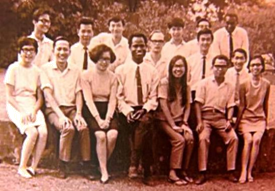 Furthermore, I was able to learn from and engage in discussion with many of the Pastors and Bible teachers whom OCF invited to share during weekly meetings, camps and Annual Conventions e.g. Dr Alan Cole, Rev Dudley Foord, Rev G Bingham, Bishop Dr Paul Barnett, Archbishop Peter Jensen, Dr Michael Griffith, Rev John Ting, Pastor Philip Teng, Reverend Hwa Yung and others. Those who had been touched through OCF meetings had become my life-long comrades in God's Ministry in later years.

"As I searched for deeper meaning in life as a committed Christian in my second year of University, I heard the Lord's calling into full time ministry while I was doing my Geography homework in my small room at the Anglican Men's Hall opposite Sydney University."
My Journey in Serving the Lord
The Lord's Calling
As I searched for deeper meaning in life as a committed Christian in my second year of University, I heard the Lord's calling into full time ministry while I was doing my Geography homework in my small room at the Anglican Men's Hall opposite Sydney University. In a clearly audible voice, I heard: "Chen Fah! Why don't you give up your own ambition? I want you to do my will in Kota Kinabalu!"
To test if what I heard was really from the Lord, I first went to teach Economics and Geography at St Andrew's Cathedral School in the city. By the end of that year, I was certain about God's call to serve Him in Kota Kinabalu, Sabah.
I was interviewed and accepted to study theology and pastoral equipping at Moore Theological College from 1970 to 1973 under many dedicated lecturers as well as the Principal, the late Dr D B Knox.
Whilst pursuing my studies at Sydney University, I met, Mida, a young lady from Jakarta, Indonesia, who was pursuing her Masters Degree in Chemistry. She also attended St. Barnabas' Church, Broadway, opposite the University, and the same Bible Study Group every Sunday. The church curate, Rev Dr Peter Jensen (who later became the Archbishop of the Diocese of Sydney) led the Bible studies.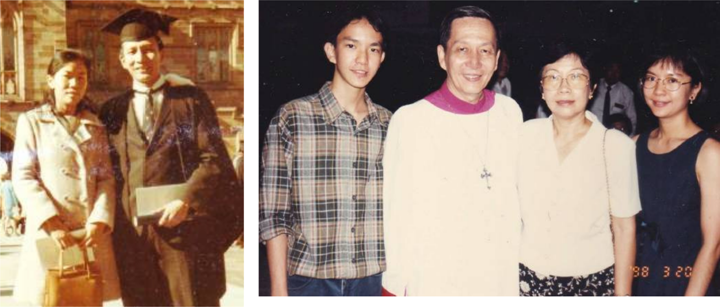 As we grew in the Word of God, so also did our relationship grow. We were married by Rev Paul Barnett at St Barnabas' Church on 5 September, 1970. A year later whilst at Moore Theological College, our daughter, Vivienne, was born and on 23 November 1973. we returned to Sabah to live. Our son, Nathanael, was born in 1981.

Currently, Nathanael Yong serves in Singapore as a Civil Engineer. He and his wife Leanne were also involved in OCF when they were studying in Sydney.
Praise God the Lord later touched Mida's heart to serve in teaching in Sabah as well as counselling in the Church. She eventually devoted herself fully to Christian Counselling. As I look back, I realise that the Lord also had a long term plan for her. Mida came to Sabah not knowing anyone except me. When she departed to her Heavenly Father's Home in 2015, the Church was filled with friends whom she had loved and served. For me, this is evidence of Christ's glory, touching and moulding us into His image.
All Saints' Cathedral 1974 – 1990
On 24 February 1974 I was Ordained as Deacon and at the end of 1974 as a Priest to serve the Lord at All Saints' Cathedral, Kota Kinabalu, Sabah, learning to serve in humility and perseverance in the ordained ministry.

Guided by the Spirit of God through prayers to work out strategies for ministry:
Word centred ministries: establishing and training Bible study leaders and groups
Regular home and hospital pastoral ministries
Youth ministry and the Boys' & Girls' Brigade Ministry every week.
Weekly bible preaching Sermons and Bible teachings for baptism, confirmation & pre-marital instructions
In 1975, I started a new Indonesian congregation with 39 people. This grew to about 800 by 1990.
By 1979, the youth began to respond to full-time Ministry: from 1979 – 1990, 12 young men and women with deep calling went for Bible College training and returned to serve as priests and pastors.
In 1980, a daughter church was planted in another residential area to become a fully functioning Parish with three services on Sunday.
I was made Dean in 1981, fully taking charge of All Saints' Cathedral with three congregations: English Service : 350-400 attendance. Chinese (Hakka) Service: 250-300 attendance. Indonesian Service: 800 attendance.
Ministry at Good Shepherd Anglican Church Mile 5 Sandakan (End of 1990 to June 2002)
The Bishop of the Diocese decided to transfer me to Sandakan to take charge of a relatively newly built Good Shepherd Anglican Church and to chair the Sabah Interior Mission. Here the Lord moulded my life to serve God's people in Word and the Spirit. Again through much prayer, I was led by the Lord to work out new strategies for this new Church.
To build a word centred and Spirit filled Church to share the Gospel of Christ and plant new churches (four new sub centres in four housing areas in Sandakan).
After 10 years, the Lord led the church to plant a new church, Indah Anglican Church. This daughter church is now fully functional and growing as a new parish church with two Bahasa Malaysia congregations, one Chinese and one English congregation.
The Lord called 12 young people into full-time Ministry with 4 lady pastors (1 serving in the children ministry and 3 as church ministry assistants) and 8 male ordained priests.
A new strategy was implemented in the Prayer Healing Ministry to reach out to the Chinese grassroot people. We met every Wednesday afternoon where a team and I met to pray for people who were burdened by physical and spiritual sickness.
Testimonies of 2 persons whom I remember vividly:-
We prayed for seven months for a 3 year old boy with a hole in the heart who was unable to stand or walk. Despite almost giving up, the team persisted and one night, the boy's parents rang me asking the team to visit them immediately and exclaiming with joy and excitement that their son was now able to walk. When we arrived at their house, the boy walked out of the house to welcome us. Tears of joy welled up in our eyes as we prayed to thank the Lord for this miracle. News of this boy's healing quickly spread to the Sandakan markets, and soon more of such cases were brought to us. Today, this family joins the weekly Sunday worship service.
The second case was an elderly woman who requested prayer for her and her husband. She had not been able to sleep at night for years. We enquired more and pleaded to the Lord in prayer for forgiveness of her sin. After much prayer, she experienced restful sleep every night and the couple started joining the Sunday worship services.
Today, the Church of the Good Shepherd in Sandakan has 3 worshipping congregations, namely, 7.00am Hakka service 500 members; 9.30am English service 190 members; 2.30pm Hakka service. 60 members.
The Lord has been faithful to our love for His church during my 12 1/2 years of ministry in Sandakan. The Lord had said, "On this Rock will I build my Church!"
In March 1998, I was consecrated a Bishop in the Anglican Diocese of Sabah at All Saints' Cathedral, Kota Kinabalu.

Church of the Good Samaritan, Kota Kinabalu 2002 – 2007
In God's time, I was transferred back to Kota Kinabalu to grow the church which the Lord had guided me to plant in the 1980's. During this time, I oversaw the project for the extension to the facilities to accommodate for church growth.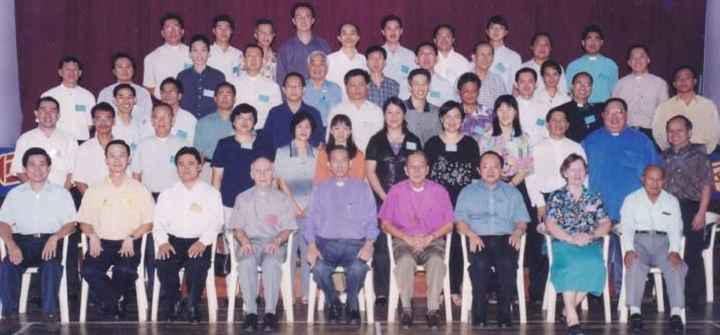 Retirement
In July 2007, I reached the mandatory retirement age of 65. The Lord called me via Archbishop Peter Jensen of the Anglican Diocese of Sydney whom I knew well when I studied in Sydney. He requested my assistance in growing new Chinese Anglican congregations in the Diocese of Sydney where I served as the Bishop for 3 years and 6 months. This ministry had started with Chinese migrants from Hong Kong and Taiwan and later from China as well as Singapore, Malaysia and India. It was a challenging task.
Earlier in 2002, I was invited by the Sarang Church Mission Director to attend their one week training course on Christian Discipleship. That steered my ministry on a new path and provided the focus of my ministry amongst the Sydney Anglican Chinese Churches. Initially this sounded very challenging to the Chinese clergy and a heavy commitment. However, when I revisited them in May 2019, I discovered that they had soldiered on and doubled the number of clergy manpower as well as congregation over those ten years.
When the call came from Singapore to take up the role of Warden at St. Peter's Hall, Trinity Theological College, I felt it was timely to assist in moulding the next generation of Pastors/Priests. I was invited by the Bishop John Chew and the Assistant Bishop to sit on the panel of interviewers of potential candidates to be sent for theological training at the college. We also encouraged candidates to stay in at the college for the duration of their theological studies. I spent lots of time during students' recess to share and discuss many issues related to Ministries. The Lord often used my time of sharing and discussion with the students to open their minds to His vision for the Gospel. Later, the college also offered a sabbatical programme for Senior Clergy from Singapore and neighbouring Dioceses. Through this, we were able to guide them in casting new vision for the Gospel: to be revived, renewed and empowered.
The final task in my retirement ministry was to be the Chaplain of Sabah Theological College in Kota Kinabalu, helping students who are mainly natives of Sabah and Sarawak. More than 3,500 indigenous students have been trained at STS since its formation 33-34 years ago. Here, I didn't have to teach classes, but I used my assigned time with each student to allow the Lord to touch their lives personally. To my great surprise, I had only spent two years with them, but they felt I had been with them for a long time. Now I am still serving as an advisor (honorary) on their Board of Management part-time.
On reflection, I have come to understand that my life is made to serve the Lord as servant of the Most High God.
My OCF experiences, growing the old and new churches, encouraging disciples of Christ to take up God's call to serve Him is God's way to honour Him, who first served us. (Servant hood)